SVP 2022 Annual Meeting
Wednesday, November 2 – Saturday, November 5, 2022
The Westin Harbour Castle
Toronto, Ontario, Canada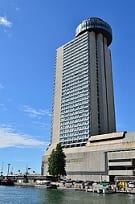 SVP Room Block: $279 for Single; $299 for Double; $319 for Triple; $339 for Quad*
*Room rates are in Canadian funds and are subject to applicable taxes and fees (as of April 26, 2022, 1 Canadian Dollar equals 0.782 US Dollars; please note that exchange rate is subject to fluctuation)
Click here to see all that Toronto has to offer!
Subsidized Childcare Services
New this year: SVP is providing heavily subsidized childcare services during the Annual Meeting, covering roughly two thirds of the expense. Attendees who wish to purchase this service, for children ages 6 months to 10 years, during Wednesday, November 2nd through Saturday, November 5th, may do so at the daily rate of $50 per day, per child. You must purchase these options when registering for the Annual Meeting. We are unable to accommodate drop-ins onsite. Also, SVP has arranged for this service due to the pre-pandemic demand. As of August 16th, we have zero registrations for childcare. If we do not receive any childcare registrations by September 6th, SVP may determine to withdraw the provision of this service. 
Quick and Affordable Transportation from Airport to Hotel
SVP has secured a 25% discount from UP Express, providing transportation via a dedicated train link from Pearson International Airport to downtown Union Station, which is a short walk to the Westin Harbourplace. The discounted fare for a regular one-way ticket is $9.26 CAD and the trip is about 25 minutes (senior fares are also available). To buy your ticket, go to www.upexpress.com and use the special discount code, "SVP22" (only valid on regular fare tickets). This code will be good through a few days after the SVP Annual Meeting. Arriving at Pearson Airport and want to know how to get to and around the Pearson UP Express station? Here's the handy step by step directions from Terminal 1, and Terminal 3.
Information for International Travelers
Most people need a visa or an Electronic Travel Authorization (eTA) to travel to Canada – not both. Some people may only need their valid passport. Visit this website to determine what's right for you. Should you require an invitation letter with your travel documents, please contact meetings@vertpaleo.org to make this request.
Accessibility Accommodations
When registering, attendees will be asked to provide any special ADA accommodations that are needed during SVP's Annual Meeting. Additionally, please note that while service animals are allowed in both the hotel and conference center, we request that you please let SVP know in advance via meetings@vertpaleo.org if you will be bringing a service animal so that we may also accommodate any attendees who may have related allergies.