SVP 2022 Annual Meeting
Wednesday, November 2 – Saturday, November 5, 2022
View Registration Rates and Form Here
The Westin Harbour Castle
Toronto, Ontario, Canada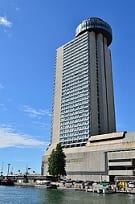 SVP Room Block: $279 for Single; $299 for Double; $319 for Triple; $339 for Quad*
*Room rates are in Canadian funds and are subject to applicable taxes and fees (as of April 26, 2022, 1 Canadian Dollar equals 0.782 US Dollars; please note that exchange rate is subject to fluctuation)
Click here to reserve your room online.
Click here to see all that Toronto has to offer!

COVID Policy for 2022 Annual Meeting – There is a masking mandate for SVP's 2022 Annual Meeting. Additionally, you should be prepared for measures that may include vaccines, boosters, and limited food. Please review the COVID Code of Conduct for details on all COVID-related expectations of in-person attendees for the Annual Meeting. SVP will be following local public health guidelines. Be forewarned, as of 7/19/2022, foreign nationals not qualified as a "fully vaccinated traveler" will not be allowed to enter Canada, even if you have tested negative for COVID-19. How to qualify as a fully vaccinated traveler. Beginning 7/19/2022, mandatory random arrival testing resumes for air travelers qualified a fully vaccinated. Upon your entry to Canada by air or at a land border crossing, you may be randomly selected for a mandatory arrival test. You must complete your arrival test with an approved test provider. Your test provider is based on where you entered the country. (The test is free) SVP will continue to monitor the pandemic and update this policy as needed.
Scheduled Release of the 2022 Meeting Schedule, Abstracts and Program
We will post the 2022 SVP Schedule of Events to the website and send it out in a separate email to the SVP membership by the week of August 8th. The SVP 2022 Program and Abstracts Book will be available in PDF format this year and provided to registered attendees by the week of September 12th.
Subsidized Childcare Services
New this year: SVP is providing heavily subsidized childcare services during the Annual Meeting, covering roughly two thirds of the expense. Attendees who wish to purchase this service, for children ages 6 months to 10 years, during Wednesday, November 2nd through Saturday, November 5th, may do so at the daily rate of $50 per day, per child. You may purchase these options when registering for the Annual Meeting.
Quick and Affordable Transportation from Airport to Hotel
SVP has secured a 25% discount from UP Express, providing transportation via a dedicated train link from Pearson International Airport to downtown Union Station, which is a short walk to the Westin Harbourplace. The discounted fare for a one-way ticket is $9.26 CAD and the trip is about 25 minutes. To buy your ticket, go to www.upexpress.com and use the special discount code, "SVP22". This code will be good through a few days after the SVP Annual Meeting. Arriving at Pearson Airport and want to know how to get to and around the Pearson UP Express station? Here's the handy step by step directions from Terminal 1, and Terminal 3.
Information for International Travelers
Most people need a visa or an Electronic Travel Authorization (eTA) to travel to Canada – not both. Some people may only need their valid passport. Visit this website to determine what's right for you. Should you require an invitation letter with your travel documents, please contact meetings@vertpaleo.org to make this request.
Accessibility Accommodations
When registering, attendees will be asked to provide any special ADA accommodations that are needed during SVP's Annual Meeting. Additionally, please note that while service animals are allowed in both the hotel and conference center, we request that you please let SVP know in advance via meetings@vertpaleo.org if you will be bringing a service animal so that we may also accommodate any attendees who may have related allergies.